PATIENT PERSPECTIVES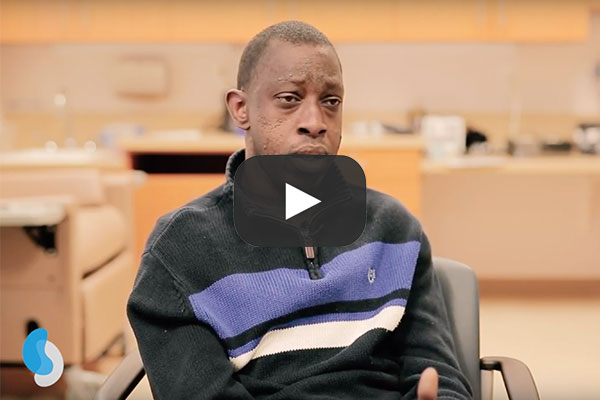 Dr. Da Rocha-Afodu, MD. and Jamal, who is living with kidney disease, discuss the challenges of the disease and how the Kidney Foundation of Northwest Ohio is making an impact!
Kathryn ~   "I never thought dialysis would be this exhausting".  My sister told me as she was on dialysis for five years.
Marie ~  "It is a daily struggle for most patients and families financially and emotionally when dealing with ESRD.  KFNWO provides positive support both financially and emotionally through their peer support groups, as well as assistance with transportation and medication.  On behalf of patients and healthcare workers thank you for your help."
Ann ~  Chronic kidney disease affects a multitude of people.  It is very important to help these people to understand the dynamics of kidney disease.  Education is key in keeping kidney patients with underlying conditions, such as diabetes and hypertension under control, to help prevent their kidney disease from advancing.
Carol ~ The Kidney Foundation provides me with valuable information that my patients can benefit from.  Thank you!
Debbie ~  From a dear ESRD patient, my 69 year old mother-in-law was on dialysis just one short month.  She passed away in 2006, she would always say with a smile, "I'll just ride out the storm".  No matter the amount of pain she was experiencing, she always kept her chin held high.  Anytime I experience pain in my life (back pain), I think of her and what she would always say.
Andrea ~ "When facing kidney disease you may feel confused, sad, angry…have yourself a good cry, then realize you need to take control.  Talk with your doctor and discuss your options."
Glenna, Renal Professional ~  Kidney disease is a life-long family adjustment to embrace: by education and understanding all aspects.  By remaining optimistic with the support of family, friends, and community.  By collaborating with the healthcare team, by taking one day at a time and living life with joy and purpose.
Patient Stories
Ella's Story
Ella is a current dialysis patient living in Toledo.  It took her a year to get on dialysis because she didn't know where to go for treatment.  She was also unaware of the types of services that organizations such as the Kidney Foundation of Northwest Ohio (KFNWO) provide.  She has since received help from KFNWO through assistance with medication and transportation to and from dialysis.  "How could I live without the Kidney Foundation of Northwest Ohio?  I couldn't.  It really has made things better for me," says Ella. After her husband passed away, her income decreased significantly and the Kidney Foundation helped greatly. "I didn't know the Kidney Foundation did so much, it has made such a difference in my life" she said.
Before going on dialysis, Ella worked as a surgical nurse for 21 years.  She loved her job and said, with a smile and wink, "because the patients can't talk back".  She described her work in the medical field as "a beautiful experience".
 Kidney Foundation of Northwest Ohio Poem
by Ella 
K – is for your kindness you show everyday.
I – is for the interest of  helping us each day.
D – is the determination you put forth everyday.
N – is for never being discouraged whatever others say.
E – is for the energy in every call.
Y – is for the years that you never let me fall.
F – is for a future that I can look forward to.
O – Looking out for others because that's just what you do.
U – is for understanding the questions I ask.
N – is for not giving up the task.
D – don't be discouraged when someone tells you no.
A – is to advance, to help people grow.
T – taking time for those who don't understand.
I – is for the invitation that makes you so grand.
O – outstanding service you give.
N – not giving up – to give me the will to live.
 That's the Kidney Foundation and I thank you from the bottom of my heart for all that you have done for me. Thank you! Thank you! Thank you! Ella
• • •
"The Kidney Foundation of NWO has been instrumental in assisting so many of our patients with obtaining medications and mileage reimbursement. For many of these patients, this extra money in their pockets goes toward feeding their families and paying bills. I cannot tell you how grateful our patients are for the Kidney Foundation and your programs. Thank you for always going the extra mile to help our patients!"
Alysia White MSW, LSW
3100 W. Central Ave. 2nd Floor Toledo, OH 43606