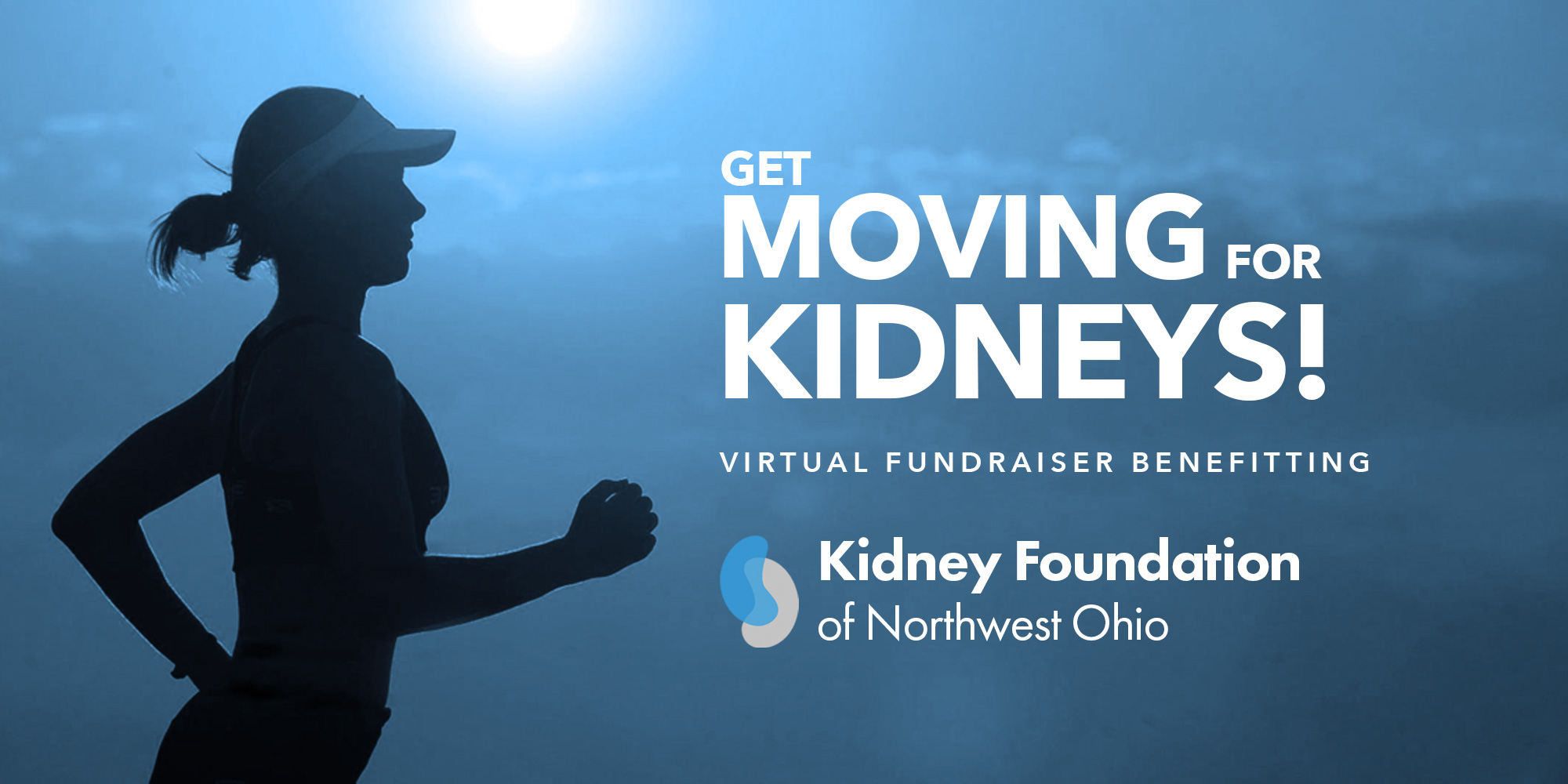 Record a video or take a photo showing ANY physical activity (walking in place in your home, biking, skateboarding, jogging, walking your dog, swimming, etc.), then upload to Facebook, Instagram or Twitter using the hashtag #getmovingforkidneys.
The more creative the better!
• Anyone who donates $20 may participate in the virtual event! 
• Household registration rate of $40 includes parents with minor children living in the household.
• Children 18+ living in the house must donate $20 to be eligible for prizes. All ages are encouraged to participate, and KFNWO encourages whole families to get involved. 
• Although all ages are welcome, donations must be made via credit card as you must be 18 years or older to donate.
Additionally, KFNWO asks that only parents or an adult 18 years or older provide their information (phone number, email address) if a family member younger than 18 is participating. 
The Kidney Foundation of Northwest Ohio will be providing incentives/prizes that participants can win for taking part in the 'Get Moving for Kidneys' event
• The Artist: The participant with the best/funniest/most clever photo or video will win a prize ($50 gas gift card)
• The Fundraisers:
The top 3
people who raise the most donations through Crowd Rise will receive prizes. (3 prizes) $200 for first, $100 for second, $50 for third most donations.
• The Recruiter: The individual who recruits the most people to participate in the event will win a prize
Alongside individual $20 registrations, there are sponsorship levels available for those who want to contribute, but are unable to participate in physical activity:
$100 – Name in 'Thank you' section of the Brand New KFNWO.org website 
$250 – Name/Business in Quarterly newsletters to stakeholders AND the Thank you section of the Brand New KFNWO.org website. 
$500 – VIP Sponsor videos at KFNWO's Wine Affair **This level allows the sponsor to air a 1 minute ad video during KFNWO events**
3100 W. Central Ave. Suite 150 Toledo, OH 43606